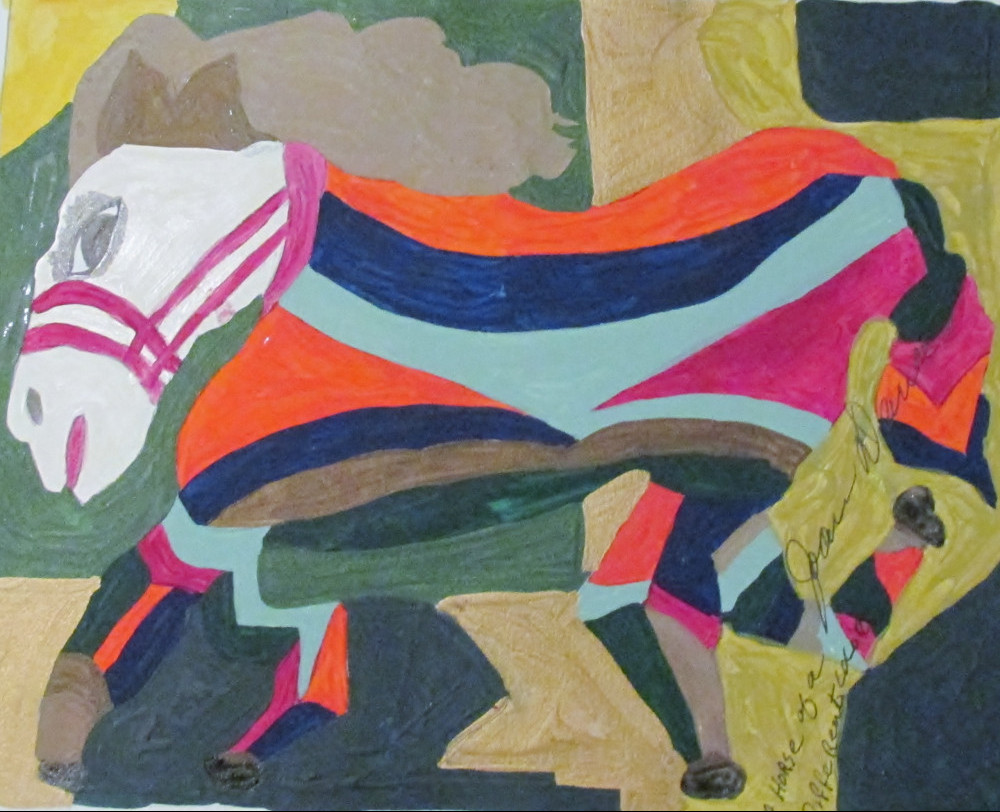 Immune Support is Necessary on Today
Welcome to Prayer Closet Images, the place that we may view the images that were created by the Artist Joan Dance. On today, we have for your viewing pleasure "A Horse of a Different Color". In the image we see a horse but it is unlike any horse that we have seen before. The horse seen has a myriad of colors that no other horse has. It can be said that it is the legendary horse of a different color.
Like that horse we how have a thing happening that is unlike the things that ordinarily happen. That however doesn't make the things that are currently happening unique because these things happen from time to time. The thing that is happening now is called a pandemic. Simply put we have a virus event that encompasses the entire world.
Today dawned bright and cheerful yet that appearance was deceptive. The rosy look and beauty of the surroundings denied the actual danger in the environment. Within the environment there are pathogens that can and will harm us. The Lord God has placed within each one of us a defense system. At times that natural defense system is overburdened. It is now that that natural system is overburdened. There is however a substance that can and will bring support to the system that the Lord has given us. The system of protection that we are born with is like an army of fighters within us that launches battle campaigns against any and all intruders, but an army travels on its stomach. That means that the fighters that are within us need to be fed. The food that our personal army need for their strength and wellness can and will have to be supplied. There are natural feeders for our systems of immunity but the supply is a difficult one, and in order for us to get enough there has to be a supplement of these in the form of additional vitamins being supplied. Today I will explain what has worked for me during this trying time of virus presence.
The Pandemic is a natural event
What we are dealing with is a natural thing that can and will be conquered. These viruses come from time to time, and when they come they do great damage and harm to the people that are susceptible to them. God created these plagues in the beginning and they continue to evolve like all other things on this earth. Scripture tells us that they were created to call our attention to the Lord God that created all things. We are to turn from thinking that we are in control of all things and give the Lord God our worship. He created these plagues to call our attention back to Him. He also created noisome beasts, war, and famine for that purpose. If we persist in not worshiping the Lord and in thinking that we are in control of His creation, then we will continue to feel the effects of these plagues, and in addition the other things that He has created to show us that He is in control. Therefore, we should all turn to the Lord and He will heal us all.
Boost your Immune System
The natural immune system within us should be strengthened and boosted. I love to use the analogy of our immune system being our own personal army. It has been said that an army travels on its stomach. That means that in order to fight, an army needs to be fed. The feeding of this personal army can be fed naturally of in a supplement manner.
Natural Boosting is cumbersome
The natural way of feeding our personal army is cumbersome.
The natural way of supporting the immune system is to consume foods that contain vitamin C, Vitamin D, and Zinc. In order to have enough of the necessary vitamins one must consume the quantity of foods that contain these vitamins in the sufficient amount.
There are supplements available
The good news on today is that we can supplement and get the correct amount of vitamins needed to feed our immune system. The supplement in the condensed packets that I suggest are easy to use and are quite tasty.
I suggest the enhanced way. I therefore suggest the packets that dissolve in hot or cold water.
Supplements are Suggested
Since the beginning of the Pandemic I personally have been consuming these supplements. I have not only avoided the Virus that represents the Pandemic but also all flu and colds have been taken care of by my personal immune system. I have had both vaccinations and the suggested booster, but those alone only show our immune system which virus to attack and destroy.
The conclusion of the matter is to do the supplement. I have learned that the product that works is Emergen-C.
I have left a direct link to Amazon where the needed vitamin is displayed.
Emergen-C Immune+ 1000mg Vitamin C Powder, with Vitamin D, Zinc, Antioxidants and Electrolytes for Immunity, Immune Support Dietary Supplement, Raspberry Flavor – 30 Count/1 Month Supply

Pros & Cons Some like the orange better and some like the raspberry better, order according to taste.
Price-$12.99 for a thirty-day supply
Guarantee (YES, NO) Yes




Returns, Refunds and Title

Amazon does not take title to returned items until the item arrives at our fulfillment center. At our discretion, a refund may be issued without requiring a return. In this situation, Amazon does not take title to the refunded item. For more information about our returns and refunds, please see our Returns Center.




Fast, Easy Returns Process

Free, easy returns on millions of items at over 18,000 drop-off locations.

You may return most new, unopened items sold and fulfilled by Amazon within 30 days of delivery for a full refund. Learn more about Amazon's Return Policy




Frequently Asked Questions

What can I return?You may return most new, unopened items sold and fulfilled by Amazon within 30 days of delivery for a full refund.

Learn more about Return policyWhen will I get my refund?Usually in about 2-3 weeks. Most refunds are fully refunded within 7 days after we receive and process your return.

Learn more about Return EstimatesDoes Amazon offer replacements and exchanges?Yes, you can create replacement and exchange orders from this page by clicking Return Items and following the instructions. If you received a damaged or defective item, we'll ship you a replacement of the exact item. If you would like to exchange an item for another, you can exchange for a different size or color or for an item in your Cart.

Learn more about Replacement Policy

Product Specifications (unique to every niche/product type)

Includes 30 single-serving packets (0.32 oz. each) of Emergen-C Immune+ in Raspberry flavor
An Enhanced Immune Support Formula with 1,000 mg of Vitamin C, plus Vitamin D and Zinc (3)
Packed with more Vitamin C than 10 oranges(1) to support your immune system (3)
Made with natural fruit flavors and sweeteners for a delicious Raspberry flavor vitamin mix
Contains the Proprietary complex with Wellmune WGP beta-glucans and arabinogalactans
Vitamin C drink mix dissolves quickly in water; it's fizzy, refreshing and caffeine-free
Packed with the key nutrients your body needs, plus antioxidants (2)
Emergen-C Immune+ is also available in gummy and chewable forms


Here is the Amazon link below, Blessings !!!