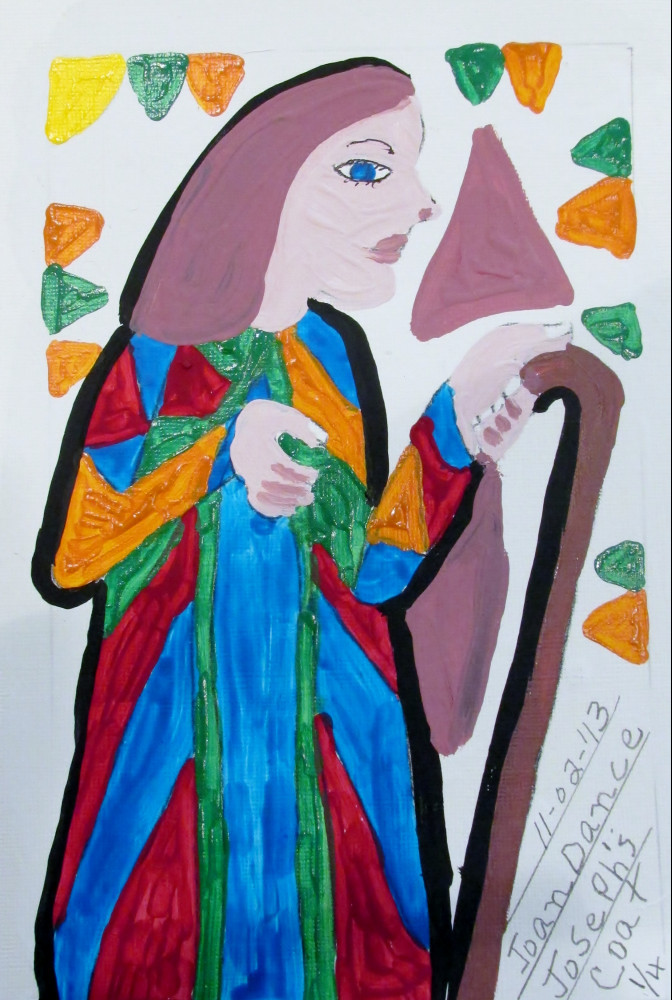 Joseph's Colorful Coat
Welcome to Prayer Closet Images the home of Joan Dance Paintings. On today, we have for your viewing pleasure the image Joseph's Coat. In the image we see the Patriot Joseph. He is seen here wearing the famous coat of many colors that his father gave him and that drew the jealousy of his brothers. It would seem that with the treatment that Joseph had to endure, that to him this coat is not worth the creation. "The coat of many colors" was what the coat came to be called, and the symbolism was that Joseph was special and that his father could tell that he stood head and shoulders above his brothers. This special status that he was accredited with was the reason that his brothers were jealous of him and was the start of the persecution of Joseph by his brothers that led to him being sold into Egypt by the jealous brothers. Joseph's entry into Egypt was at the bottom level of being a slave, yet his ultimate level was as co-ruler of the entire land of Egypt.
Love Even Enemies
The first time that I heard the command to Love my enemies I thought, there must be some sort of mistake made here. The concept seemed to be a nonsense concept. I had no way of realizing that the command was actually a thing that was possible to do. Upon consideration the command makes perfect sense and the following will explain why it is not only possible but a thing that is desirable.
Love for Enemies
Jesus said,"You have heard it said, Love your neighbor and hate your enemy. But I tell you, love your enemies and pray for those who persecute you, that you may be children of your Father in heaven. He causes His sun to rise on the evil and the good, and sends rain on the righteous and the unrighteous. If you love those who love you, what reward will you get ? Are not even the tax collectors doing that ? And if you greet only your own people, what are you doing more than others ? Do not even pagans do that ? Be perfect, therefore, as your Father is perfect".
The perfect application of love is to apply love to all. Love is to be applied to all things and all people at all times. Be ye therefore perfect as your heavenly Father is perfect. That is the complete way to act, and that way is the way of love. Love never fails.
The core idea behind loving your enemies is that both you and your enemies are children of God. Why would God in His infinity wisdom not want all of His children to see life. Your enemies are just as much a child of God as are you. He or she just happens to be your enemy. What ever you do for that enemy should be done in the name of God. The reaction of the enemy is to ask "what kind of God does he serve that he can display love even to those that are against himself"? He who moves toward God, God moves toward him. He sees the Lord God's movement, then he believes what is said, and becomes a child of God, and no longer an enemy but now he has become a friend.

We did not make ourselves, the Lord God made us, and for that reason we are eternally humble, He must know us more than we know ourselves.
The end result is the saving of a soul. It has been said that he who saves souls is wise. A crown of glory is reserved for they that save souls.
Love is patient, kind, not envious, humble, not rude, puts others before self, is not easily provoked, thinks no evil, rejoices not in iniquity but rejoices in the truth, bears all things, believes all things, hopes all things, endures all things, Love never fails. Apply Love at all times for love never fails.
Apply love to everything.
Saving souls earns one an eternal crown in glory. The ultimate thing that anyone can do is to save one that saves many, it is as if you were the cause of many souls saved.
The application of hate hardens that which if encounters while love melts those things that have contact with it.


Conclusion
Therefore loving of one's enemies entails the total loving of all of God's creation. Not only those that serve our interests but also the ones that are against the things that we hold dear. The thing that has to be done is the application of love in all instances. The application of love details the realization that love never fails.