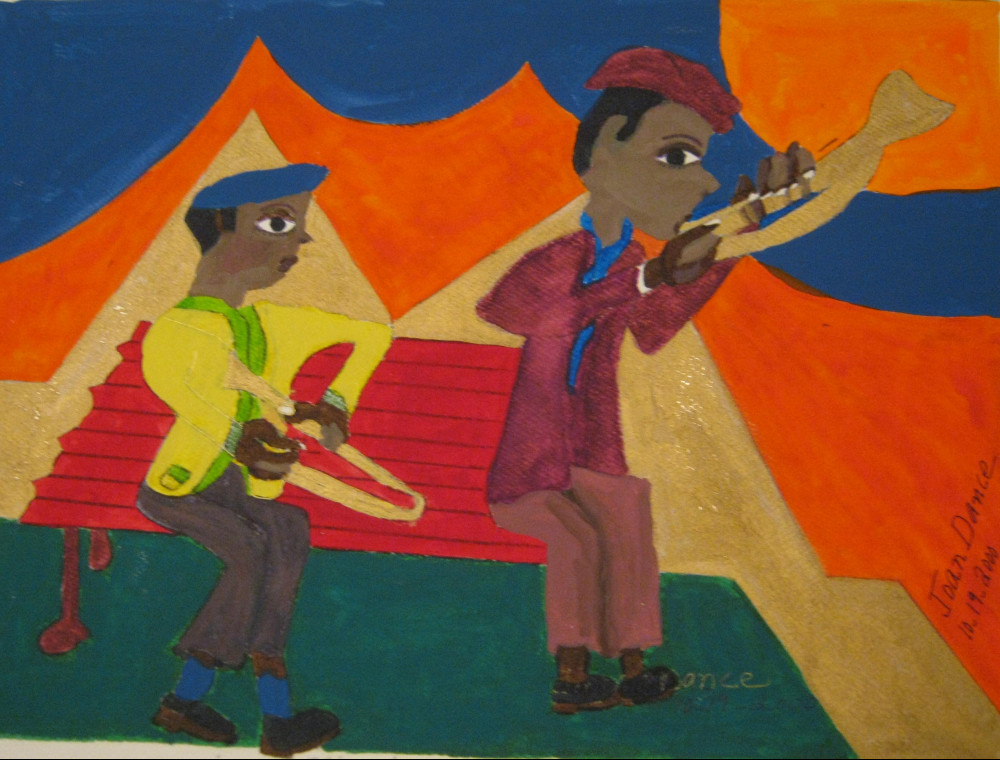 The attitude about our sins should be that we should morne over our sins and then confess them to the Lord God. Welcome to Prayer Closet Images where on today we have for your viewing pleasure the image Musicians. In the image we see two players of instruments. The older player seems to be instructing the younger player. Since we all have sinned and fall short, it can be said that both of the players have sins that only they know about. The attitude about our sins is extremely important. We should not be calloused concerning our personal sins but we should instead be discomforted by them. We should morne over them. In that way we can do what we need to do to mitigate our having committed them. When we are discomforted, we then can do what we need to do to make things right with God. When we only dismiss our sins as natural, then we set ourselves up for the payment of them and that payment is death. The wages of sin is death but the gift of God is eternal life through Christ our Lord.
Morne over those sins
When I say morne over those sins I mean just that, because sins are our pathway to death we should feel bad when we commit them and not feel anyway but bad. Morning is the correct feeling that we should have. When we morne and feel bad because of having committed sins we set up the remedy for those sins. That remedy is to confess those sins to the only one that can get rid of them for us. That one is God Himself. Scripture says that when we confess our sins He is faithful and just to forgive our sins and to cleanse us from all unrighteousness.
Confess our sins
Confession is necessary to obtain forgiveness. Without confession, we continue in our sins and following the full pathway of our sins leads to death for us and that is a forever condition. Death is a separation from God and that separation is eternal. Therefore, we must rid ourselves of that which has the power to separate us from God and life. To have life is equated with having God, and to not have life equates with having death. Confession is necessary and brings us to the place that we desire and that place is the place of cleansing by the Lord God Himself. We are to create a personal relationship with our creator and that personal relationship is all that we need to bring us from the natural acts that will cause us to die eternally and will place us in a condition that will ultimately give us eternal life.
Obtain forgiveness
Confession cleanses us and sends our sins behind the Lord's back. Confession sends our sins as far from us as the east is from the west. God has the power to forgive us our sins that we have committed and only He can cleanse the deadly sins from us. Forgiveness is indeed necessary and must be obtained or things will go from bad to worse ultimately culminating in our demise and this demise is forever. Forgiveness is the best thing that can happen to us that have all sinned against Him that created us.
Sin no more
It is important to not return to the sin once it has been forgiven. When God has forgiven us then we are forgiven indeed. If we do happen to sin again, God can and will hear our plea and forgive us once again. We are to always go to God for forgiveness no matter what. Even though God will forgive us for our sins it is not just a one way relationship. We still must pay for the sins that we commit. The advantage we have in this forgiveness by God is that we will not have to die for those sins that we commit. We must pay but not with our eternal soul in death. God still desires for us to prosper but not in a sinful way. We must pay and pay indeed. The ways in which we must pay are as diverse as the sins that we commit. Therefore, it is the best thing for us is to remain sinless. To sin no more.
Conclusion
God cleanses us from all unrighteousness. When we are cleansed then we are cleansed indeed. God will clean that sin stain from us entirely. We have only to redirect the cause of the sin to something that is not sin producing. The easiest way to do that redirecting is to do the things that are pleasing to the Lord God. We can do these things and they are not grevious to do them. These things are pleasant to do and the results of doing them is righteousness indeed. If we remain seriously humble in our gifts and talents and in our measure of faith then we are in the pathway of the things that we are to do. Seriously humble means that we realize that the Lord made us and we did not make ourselves. Since the Lord made us we are made by a perfect being and therefore we are to be directed by the one that made us and not by ourselves. We are to study to show ourselves approved of God a workman that needs not to be ashamed, rightly dividing the Word of truth. Study of the Word of God produces in us a perfected person and we are more and more perfected as we study and obtain the way God wants us to be. He did not create us and then just let us go. He gives us instructions as we go along in this life. When things seem to go astray then we must look to our training and choose the things to do that are approved by God and then we are to do those things. God gives us specific Gifts and Talents for us to be able to do the things that are pleasing to Him. The Gifts are for the things of His eternal Kingdom and the talents are for us to make our living while we are on this earth. The Lord God does indeed take care of His children. In the end we are translated into that Heavenly Kingdom and we then spend eternity with our Lord in His presence.